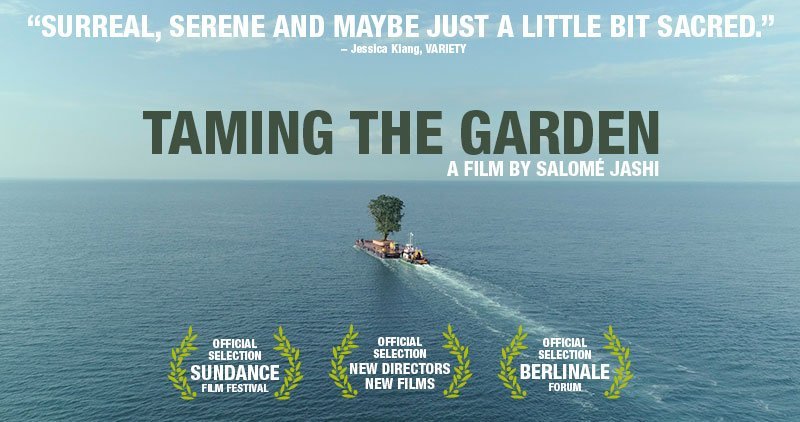 A poetic ode to the rivalry between men and nature.
———
Synopsis
———
A powerful man, who is also the former prime minister of Georgia, has developed an exquisite hobby. He collects century old trees along Georgia's coastline. He commissions his men to uproot them and bring them to his private garden. Some of these trees are as tall as 15-floor-buildings. And in order to transplant a tree of such dimensions some other trees are chopped down, electric cables are shifted and new roads are paved through mandarin plantations.
The film moves the concept of uprooting from its metaphorical meaning into an oppressive, tangible and yet surreal reality.
Watch trailer: https://tamingthegarden-film.com/en/#trailer
———–
Filmmaker
———–
Salomé Jashi is a documentary filmmaker and producer from Georgia and a co-founder of Sakdoc Film. Her Taming the Garden premiered at Sundance Film Festival's World Cinema Documentary Competition and Berlinale Forum and was nominated for the European Film Awards. Her previous film The Dazzling Light of Sunset was awarded the Main Prize at Visions du Réel's Regard Neuf Competition. Her earlier work Bakhmaro was nominated for the Asia Pacific Screen Awards. Her producing work How the Room Felt premiered at IDFA's main competition. Most of her works are European co-productions.
Salomé holds an MA in documentary filmmaking from Royal Holloway, University of London . She was a fellow of Nipkow Scholarship in 2017 and DAAD Artists-in-Berlin Program in 2020 and is a member of European Film Academy. Salomé has been tutoring internationally at training initiatives such as Ex-Oriente Film Workshop, Baltic Sea Forum, Below Zero, Dokedge Kolkata, Dhaka Doc Lab, etc.
5pm Screening only
8pm Screening Introduction by Filmmaker Salomé Jashi and a post-film Q&A and discussion.
Screening to be held at LOKAL's NEW CoLAB Theatre (44 Vasil Petriashvili)